Looking forward to the next maze? We will be back to our regular schedule soon. In the meantime,
Contact
us to be put onto the newsletter list.
The Challenge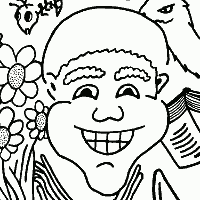 Solve the Maze
Download and print the maze now to start the challenge. Find the way through the maze from start to finish. Look for the gaps in the drawing to navigate your way through.
Maze Description
This is the first large maze completed since the original run of Cartoon mazes were created and is the most difficult maze created to date.
Download Links
The maze's webpage: http://cartoonmazes.com/maze/Shannan/21/
Right click and "Save Link As..." or "Save Target As..." to download the High resolution Image for printing
What are Cartoon Mazes?
At first glance they may appear like a collection of drawing squished together. On closer inspection you'll notice a start and finish on opposite corners of the maze and innocent looking gaps in the drawing that could be mistaken for lazy drawing. But those gaps aren't lazy mistakes and there is a path that navigates from start to finish through those gaps. Beware, there are many dead ends. Enjoy!